Tech mistake |What is the future of marketing automation? How Artificial Intelligence and Predictive Analytics will shape marketing in the nearest future and why content is still a king.
It looks like data-driven technologies are the future of everything these days and marketing is no exception. If you are in the industry, chances are you already know what marketing automation is. That buzzword everyone likes to drop in casually. If, however, you are only casually wondering, let's do a quick recap of what is marketing automation before we dive into the pool of possibilities it offers.
Is the future bright for marketing automation? Why do you need it
Marketing automaton's chief virtue is that it helps marketers to better manage their customer relationships by automating repetitive tasks like sending emails, posting on social media, generating and nurturing leads, or executing some activities. It's considered to be indispensable for small businesses as it helps them to compete with industry's giant by saving a tremendous amount of time.
And it seems to be good at doing its job. According to Forrester Marketing Automation Technology Forecast, spending for marketing automation tools is estimated to reach $25.1 billion annually by 2023. Already, 67% of market leaders are using a marketing automation platform. Additional 21% are planning to use one in the next two years.
The overall report on the future of marketing automation looks the following: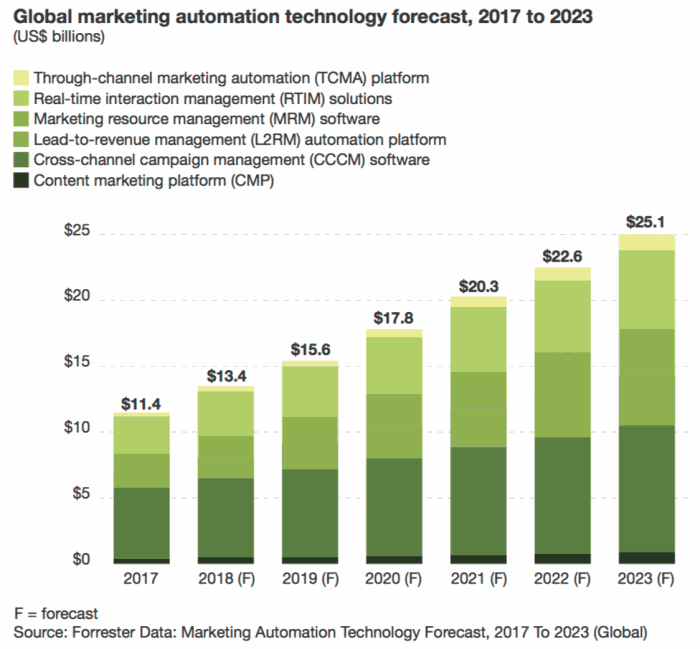 Six main marketing automation technologies under evaluation – content marketing platform, cross-channel campaign management software, lead-to-revenue management automation platform, marketing resource management platform, real-time interaction management solution, and trough-channel marketing automation platform – show steady and promising growth. And it only makes sense that the leaders of the market plan to increase their spending on this kind of technologies in the following years.
Looking at this hopeful data, you cannot help but wonder – does marketing automation always deliver on the promise? A less optimistic recent State of Salesforce report suggests that only 7% of marketers see a good, measurable ROI from this investment. Marketing automation undeniably has its stumbling blocks that the right solution can salvage. It's definitely not a perfect panacea for all companies and cases, but beyond a doubt, we can already state that marketing automation will only continue to grow and advance its capabilities. Here are some of the major marketing automation trends to be on the lookout in the upcoming year.
Marketing Automation will become smarter thanks to AI
One of the most significant tech trends of 2018, artificial intelligence, has found a way to facilitate marketing automation process as well. The numbers speak for themselves, 33% of marketing organizations are increasing their investment in AI within the next 12 months. The decision is not based on a mere buzz around the technology. The general expectation is that AI will have the greatest impact on qualifying prospects and will facilitate creating a relevant customer experience.
In marketing, AI will become a game changer by making communication with customers more personalized and engaging. The guessing game is over. AI-powered personalization can help you decide when to communicate with your recipients and what channels are more suitable to use. The system will be able to tell you the preferred communication channels of your recipients, as well as help go past standardized marketing messages, to add a new meaning to the word customization.
Predictive Analytics to help you be one step ahead
According to Insights from the marketing section of this year's State of Salesforce report, 43% of B2B companies are investing in predictive analytics. Much like artificial intelligence, it uses data to bring logic to your marketing strategy.
Predictive analytics utilizes machine learning and big data to calculate a specific outcome based on the historical actions of your customers and gathered data. This can help marketers draw important conclusions and be one step ahead.
For marketing automation, this means seeing how your customers will act and react to a certain action and hence adjust your efforts accordingly. Another good use of predictive analytics is lead scoring. By making use of machine learning and probabilistic calculations you can predict which of the leads have the chances of turning into real customers, as well as identify the best performing channels.
Create content from the customer perspective
When targeting the audience, we know that the content should be relevant and sent at the right time to the right user to make the customer experience as unique as possible. But with this strategy it's important to remember that the message you send out should have a few more essential characteristics – it should be engaging and personalized.
2018 marketing strategies will focus not on the kind of content business wants to produce but majorly on what customers want to receive.  Adapting to customers' needs is crucial if you're going to build a relevant and engaging communication. Marketing automation technologies already let you show personalized content to your website visitors. In the nearest future, this trend will only expand as the automation tools will make distributing personalized content easier and more efficient. Just think how much easier it will be to generate good leads that can consequently turn into customers if you can create content for specific accounts or types of accounts. With marketing automation tools you can distribute these pieces of information based on IP address of your website visitors.
We live in the digital world and companies that are not willing to accept the status quo will only fall behind in their race for leads and customers. As the technologies advance, so are marketing tools. In the following years, marketing automation will only become smarter and more focused on the personal approach to each potential or existing customer. Gone are the days of mass marketing, client-oriented communication that focuses primarily on what your customers want and chooses the right message, as well as communication channels, is a way to succeed, and marketing automation is here to help you.